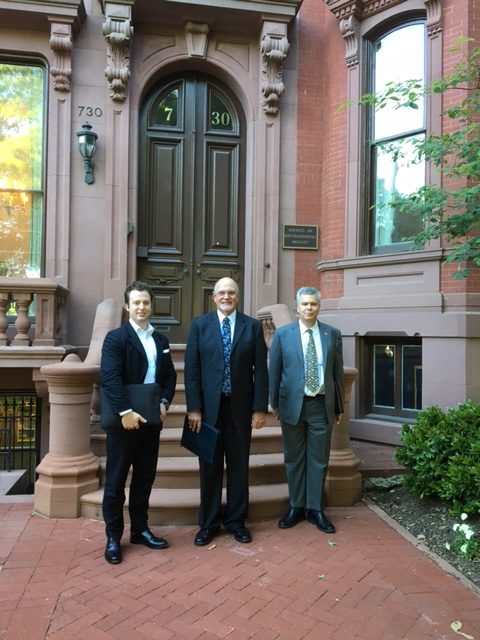 On May 2nd and 3rd, Hydro-Action attended the National Onsite Wastewater Recycling Association's (NOWRA) Washington, DC Legislative Fly-In where we spoke to our elected officials in both the House of Congress and the Senate about the state of onsite wastewater treatment as well as asking for their support of the millions of Americans that served by onsite wastewater or work in the industry. As a group, we had over 50 individual meetings with our elected representatives and their staff.
We met with the staff members of Jackie Walorski (R-IN-2nd District), Todd Young (R-IN Senate), and Joe Donnelly (D-IN Senate) and discussed the importance of onsite wastewater as a vital infrastructure that serves millions of people across the country, but as an industry, it was received virtually no funding from federal Clean Water Act grant opportunities.
The main goal of the NOWRA Washington DC Fly-In were to begin a conversation with elected officials about the state and needs of the onsite wastewater industry. More specifically, NOWRA had goals that could be immediately addressed by the elected officials, which would strengthen the industry as well as protect the environment and looking out for homeowner's who have paid taxes into the Clean Water State Revolving Fund, but if they're on onsite systems, then they've received $0 of their taxes towards their own onsite wastewater infrastructure.
The first goal of the Fly-In was to get congress to preserve funding for Section 319 of the Clean Water State Revolving Fund and preserve funding for the Rural Utilities Water and Sewer Funding, which had been zeroed out in the most recent federal budget.
The second goal of the Fly-In was to ask US House Members to join the Decentralized Wastewater Recycling Caucus. If you're unfamiliar with what the function of a caucus is, a caucus a group of US elected officials who have decided to share a position of support for a specific issue. In our case, we asked our elected officials to join because many of their voters in their congressional district are served by onsite wastewater treatment. This is crucial for advocating safe and responsible onsite wastewater laws and regulation.
The third goal of the Fly-In was to ask representatives to support NOWRA's proposed legislation which requires the EPA to report to Congress on the success and obstacles towards more equitable funding for decentralized wastewater. This proposed legislation would also require small communities receiving federal funding must consider and evaluate all wastewater treatment options including decentralized, onsite wastewater treatment.
This is very important because many small communities are not being allowed to see the full picture of technological solutions, and instead they're being convinced their options are limited when that is simply not true. Many of these small communities do not need billion dollar solutions for their communities of less than 5,000 people. Rural America needs the right tools for the right jobs, and decentralized wastewater treatment provides many flexible options at lower costs than conventional centralized wastewater treatment.
In Hydro-Action's case as an Indiana company, 2,572,773 people, approximately 39%, of the state's total population are served by onsite septic systems. From 1990 to 2012 in Indiana, the Clean Water Act State Revolving Fund allocated a total of $2,652,720,833 ($2.7 billion) towards wastewater infrastructure in Indiana for centralized wastewater infrastructure projects, and during that same time period, $50,000 of the Clean Water Act State Revolving Fund went towards decentralized onsite wastewater infrastructure projects.
That means that despite the fact that 39% of Indiana's population depends on onsite wastewater treatment, 0.00002% of the total federal funding for wastewater infrastructure in Indiana went towards those 2.572 million tax-paying Hoosiers. This is a major concern for all tax payers in the United States who utilize onsite, decentralized wastewater treatment.
This same vastly unequal discrepancy in funding between centralized and decentralized wastewater infrastructure is true of all fifty states. Over the last 30 years, Congress and the EPA have distributed over $100 billion in grant funding and low interest loans that are specifically designated for wastewater. If you break that total down between centralized and decentralized, 99.7% of the funding has exclusively gone towards centralized wastewater. So while 99.7% of the money is allocated to centralized wastewater, nearly 33% of all tax-paying citizens depend on decentralized wastewater. In other words, 60% of the people are getting 99.7% of all the funding made available.
This is why it is critical for homeowners and wastewater professionals to take a more active part in advocating for decentralized wastewater treatment because it's often a cheaper solution that provides equal if not superior human and environmental protection against water contamination and pollution.