Slide
CLEAN SOLUTIONS. CLEAR RESULTS.
Green from the Ground Up.
Hydro-Action Clear Advantages
Nothing is more important to us than delivering a system that works for you, your customers, and the environment.
We do it by offering:
A Five-Year Transferable Limited Factory Warranty.
This warranty exceeds the NSF requirement of two (2) years.
Durability.
Vacuum tested fiberglass design, manufactured by a U.S. industry-leader with over 35 years experience.
Reduced Shipping Costs.
Fiberglass is lighter than concrete and our tanks can be nested for transit, so delivery is easier.
Cost-Effective.
Simple installation, higher adaptability to land conditions and economical operation.
Easy Installation and Maintenance.
Easily installed without heavy equipment and fast and hassle-free maintenance.
Training.
We train and certify our distributors to be experts in the field of aerobic wastewater treatment.
Flexibility.
Locate the OPS remotely and can be installed as a supplemental unit to existing systems.
A Green Solution.
Aerobic action instead of chemicals, higher-quality effluent and flexibility for sensitive land areas.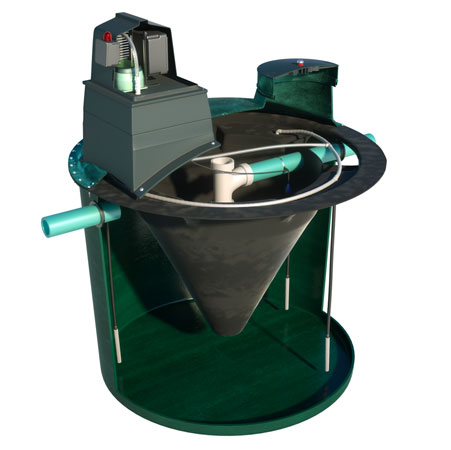 We meet challenges with innovation that works. Could it be any clearer?
Our technology utilizes an activated sludge treatment process, which constantly infuses oxygen to wastewater where aerobic bacteria metabolize the waste. Then it separates in a clarification chamber without the use of media filters, carbon additives, or expensive, high maintenance technologies.
As your partner in wastewater treatment systems, we're proud to offer you Hydro-Action's best. A system of unprecedented quality that considers everything from delivery to environmental concerns, we think the case is clear. Hydro-Action gives you clear results.
If you're ready for a smarter onsite water treatment system, then you're ready for Hydro-Action. Designed specifically to meet the unique challenges of today, our treatment system produces cleaner effluent more efficiently, even in areas with sensitive land issues and leach field complications.
We're a common-sense business giving you the kind of green technology that saves time, money, and hassles for everyone. As savvy customers and industry professionals alike look for economical, sustainable water treatment systems that work for people and the environment, they're turning to Hydro-Action.