The Next Level of Wastewater Management

Our timed-dosing effluent management system works with the Hydro-Action onsite Aerobic Treatment Unit (ATU) to provide even more flexibility and efficiency. TurtleDrip™ makes it possible to dispose of clear, odorless effluent directly into the soil safely and effectively, recycling water and simplifying the dispersal process.
TurtleDrip™ can be a green and economical upgrade to current systems, or help alleviate land issues that conventional systems can't resolve. TurtleDrip™ stays below the surface, but it's taking wastewater to the next level.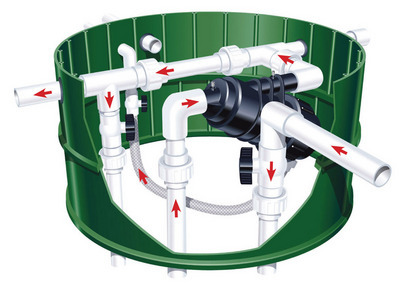 A New Field of Options
TurtleDrip™ is the best solution to the problem of effluent disposal. It uses water from the Hydro-Action Aerobic Treatment Unit (ATU) and slowly and uniformly distributes it below the surface, replacing a conventional leach field and adding supplemental moisture to plants and grass.
Features like a micro-dosing timer, which pace water distribution, make TurtleDrip™ a great choice for every system. TurtleDrip™ is suitable for areas with land constraints and mature landscaping, providing non-disruptive efficiency on lots both large and small. High water tables and irregular terrain are no match for TurtleDrip™ either, so no more unsightly "Mound" systems. Instead of system limitations to work around, TurtleDrip™ provides installation and user flexibility.

TurtleDrip™ Next-Level Advantages
Benefits from the Hydro-Action commitment to high-quality and no-hassles include:
Design
With the simple addition of a separate dosing tank, all clear, odorless effluent becomes recyclable.
Easy to Install and Maintain
The drip system is installed quickly and easily.
There's no need to winterize, and the tubing and emitters are self-cleaning.
Easy-access to the dosing tank pump makes servicing simple.
Save Time and Money
Good for any non-potable use, recycled water could mean greater water efficiencies and lower bills.
Minimal operating costs, long system life, and fifteen-year root infiltration warranty mean even more savings now and in the future.
A Solution As Green As The Grass
A long system life means that at installation, TurtleDrip™'s benefits are just starting to flow. As conservation issues become increasingly important, TurtleDrip™ recycles water for landscaping or other uses for years to come.
In regions where drought and water-demand issues are especially challenging for residential and commercial markets, TurtleDrip™ offers a new opportunity to use resources more effectively. Although not recommended as a primary irrigation system, TurtleDrip™'s supplemental potential alone can change the way an outdoor space is designed and enjoyed.
With TurtleDrip™, discover wastewater management that applies to almost any terrain or circumstance. The practical and advanced solutions of TurtleDrip™ provide savings for individual users, industry professionals, and the environment.